Sassinoro – 16 pax
Start From
€1,420.00 / Night
Swimming pool
Private 6 x12 m
It is the first year of activity of this recently renovated manor house. In order to introduce and launch the activity, the property has decided to lower the rates for those guests who want to choose this suggestive residence.
KEY FEATURES
Size 950 m²
Sleeps: 16 guests
Suites: 3
Bedrooms: 5
Bathrooms: 12
Private Swimming Pool (6mx12m)
LOCATION
Casale Sassinoro is situated in the 200 hectare La Polverosa estate, in what was once Ancient Etruria. The house is located approximately 19kms from the city of Orvieto and 8-9kms from the motorway exit. The approach road is flanked by cypress trees and the house has views across a valley of olive groves, vineyards and woods.
The local area is renowned for its Mediaeval architecture and historic papal residences as well as the notable gothic cathedral in the city itself, which dates from the late-Mediaeval period and was designed by Lorenzo Maitani & Arnolfo di Cambio.
Orvieto also has its own museum with an impressive collection of Etrurian artefacts from the local area, and is well worth a visit. We would also encourage you to make use of the bicycle, available at the house upon request, to explore the picturesque villages and beautiful countryside of the surrounding area.
DESCRIPTION
The original south-facing manor house has recently been extended and undergone complete renovation, in order to provide the utmost luxury and comfort for parties of up to 16 guests.
The aim of the refurbishment was to elevate the pre-existing qualities of the building by sympathetic use of modern design and materials, whilst remaining true to the origins of the house and local architectural traditions.
The interior design and furnishings carefully anchor the present in the past, combining antique family pieces, traditional features such as fireplaces, and modern bespoke items which include the large architect-designed kitchen.
The result is a sunlight-filled, harmonious juxtaposition of the antique and modern, where design and character work together to ensure our guests the maximum comfort.
Rooms are arranged over three floors.
The first floor and attics are dedicated to the suites and bedrooms.
On the ground floor are the living and dining rooms; bar; studio; spa; and kitchen opening onto a large, covered, open-air dining room and living space.
In the gardens there is a generous private swimming pool equipped with sun loungers and a gazebo. There is also a small kitchen garden where guests are encouraged to pick and enjoy local, seasonal fruit and vegetables.
LAYOUT
GROUND FLOOR
– 2 entrances
– fully-equipped kitchen (including ice maker, microwave, dishwasher, gas & induction hobs, oven and coffee maker)
– dining room with fireplace and table for 16
– reception room with fireplace and bookshelves
– reception room with fireplace, bookshelves, television, piano and desk
– bar furnished with small tables, chairs and bar counter
– staff bedroom with dedicated bathroom and laundry facilities (washing machine and ironing board)
– Spa equipped with sauna, jacuzzi, gym, massage room and relaxation area
– Storage room for deckchairs and parasols
Note: All rooms on the ground floor have direct access onto the garden
FIRST FLOOR
– 3 double suites – 2 of which have fireplaces – and each with its own furnished balcony
– 2 double bedrooms, both with furnished terraces and direct access to the garden
– 1 double bedroom with furnished balcony
– 1 study bedroom sleeping up to 4 guests
ATTIC
– 2 double bedrooms, each with its own large terrace affording guests beautiful panoramic views of the surrounding country
Note: All bedrooms have ensuite shower rooms
OUTSIDE
– The house is surrounded by a large private garden which includes:
o Parking for at least 6 cars
o Swimming pool with gazebo, deckchairs, sun loungers and open-air shower
o Kitchen Garden with views over the valley
o 2 terraces flanking the house
o Covered outdoor sitting and dining area equipped with dining table, sofa and armchairs, sun loungers and deckchairs
PROPERTY HIGHLIGHTS
– Private garden with car park
– Kitchen garden with seasonal produce
– Private swimming pool
– Daily cleaning service (08.30-13.30)
– Free WiFi throughout the house and by the swimming pool
– Furnished veranda, including barbecue
– Spa
– Air conditioning
– 5 fireplaces
– Safe
ALSO PROVIDED
– All bedlinen and towels
– Bathroom accessories including make-up mirrors and hairdryers
– 2 cots
– 2 children's beds
– 2 highchairs
– Shoe cleaner
– WiFi music speakers in each room
– Bicycle (available on request)
ADDITIONAL SERVICES
Once booking has been made, we will be happy to arrange any or all of the below services in order to enhance your stay.
Should you require any assistance or service not listed, please do not hesitate to ask and we shall do our utmost to help.
Note: Cost of the below services is NOT INCLUDED in the property rental fee and prices will be determined upon request.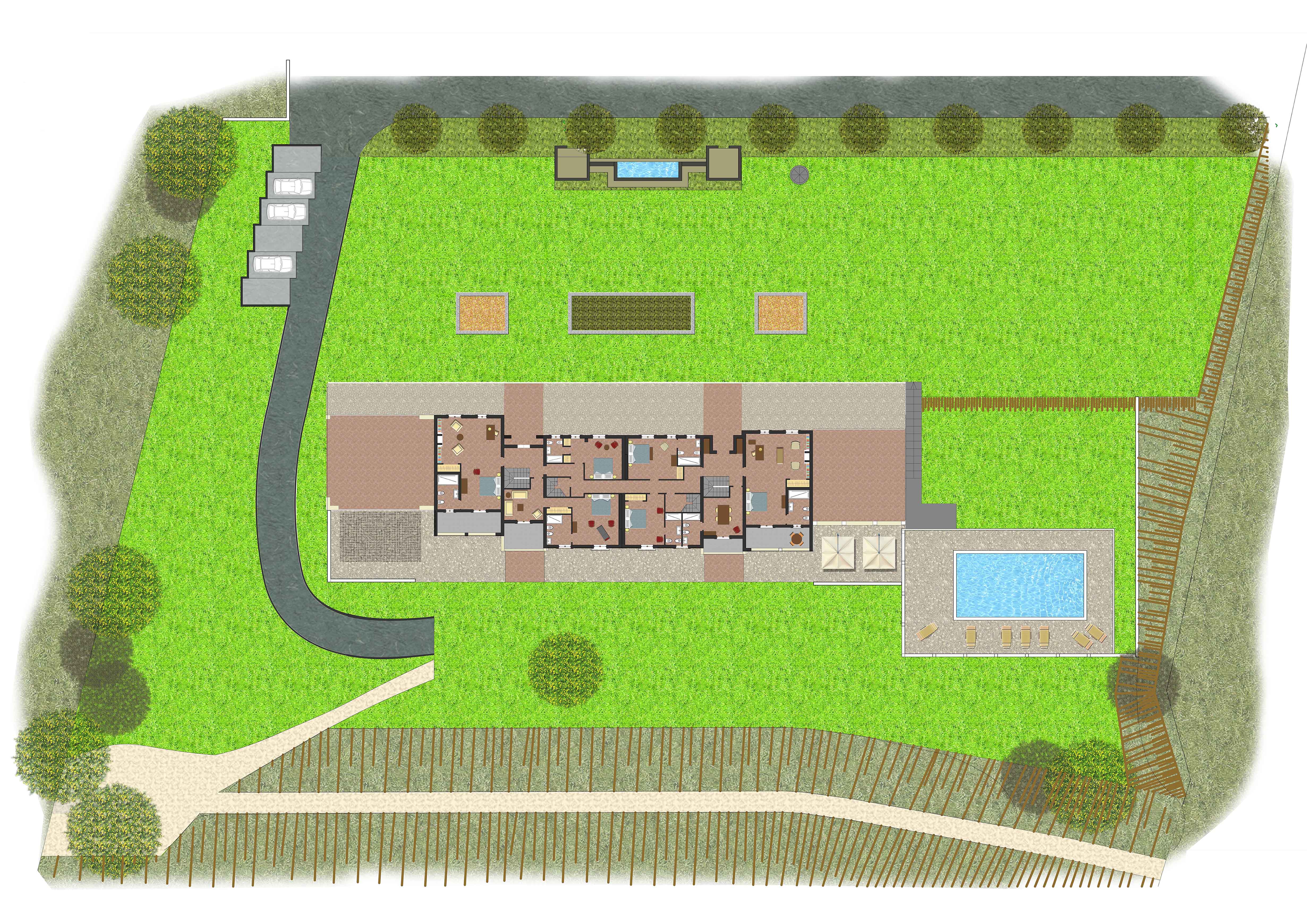 GROUND FLOOR

FIRST FLOOR

ATTIC
WEEKEND AND HOLIDAYS to be defined
---
Serviced

 INCLUDED
– Free wiFi
– Housekeeping – 6 days a week from 9 am to 1 pm( excluding sundays and public holidays)
– Access to the pool and use of equipment
– Use of the Spa with whirlpool, sauna, emotional showers and gym
– Continental breakfast (ingredients at extra cost)
– Air conditioning summer/ winter
---
Serviced

 NOT INCLUDED 

to be defined on request
– Airport transfers
– Car hire
– Bicycle hire
– Restaurant bookings
– Local tours & visits
– Babysitter
– Chef, for any or all meals, including breakfast
– At-home restaurant service from a choice of local restaurants
– Waiters
– Driver
– Butler
– Massage Therapist
– Firewood
– Fresh produce (other than that of the kitchen garden)