La casa del Borgo – 5/6 pax
Heating
Independant heating

110 sqm – Guests 5/6
This house on two floors is built into the castle walls and enjoys very different views, as it faces the old square of the village of Sermugnano on one side, with its church and stone houses, and on   the other side the immense valley of the Tevere (Tiber), dotted with lakes, fields, ancient villages and old casali.
Inside the house, the authentic decorated ceiling and the original furniture from the 19th and early 20th centuries treat guests to a holiday in a place which is out of time.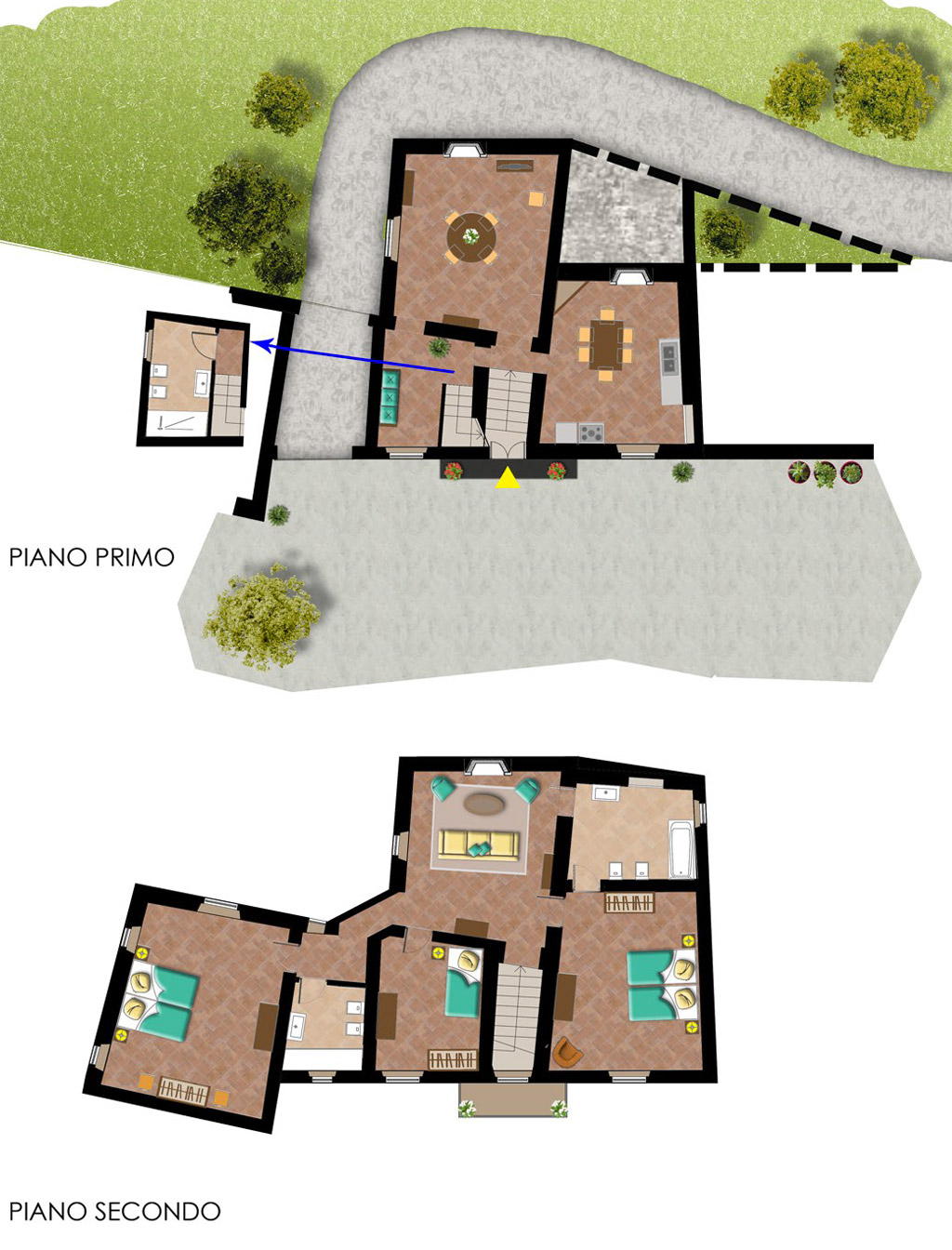 ---
Prezzi 2022/2023
WEEKEND (da venerdì a domenica) escluse festività
Bassa stagione € 450
03/10/2022 – 22/12/2022
09/01/2023 – 15/05/2023
02/10/2023 – 22/12/2023
Media stagione € 500
16/05/2023 – 02/07/2023
04/09/2023 – 01/10/2023
Alta stagione € 550
SETTIMANA (da sabato a sabato) escluse festività
Bassa stagione € 560
Media stagione € 750
Alta stagione € 1000
From June 25 until September 10 it is only possible to book weekly, from Saturday to Saturday.
---
Ground floor
The entrance is from the old  courtyard of the castle: from the private entrance, a  staircase takes you to the first floor. On the ground floor there is a third bathroom with shower.
---
First floor
The fitted kitchen is opposite the dining room.  To the left there is a landing with another staircase leading to the 2nd floor.  A small balcony with table and chairs between the first?and second floors faces onto the square.
---
Second floor
Sitting room, 2 double and 1 single bedrooms, and 2 bathrooms.
---
On request cots and highchairs for babies.
---
Appliances
Cooker with 4 gas burners and an elecrtic oven, fridge/ freezer, microwave, washing machine, TV, DVD reader, iron and ironing board.
---
Services INCLUDED
• Bed linen and towels for each guest (weekly change)
• Light and gas power consumption
• Free wiFi
• Access to the swimmingpool and use of equipment
---
Services NOT INCLUDED
• autonomous heating cost (winter season): at consumption €3,00/hour
• final cleaning: € 150,00
• final cleaning costs for pets: € 20,00
• wood for fireplaces (on request): € 15,00/ quintal